The European 5G Conference 2024
The 2024 edition of The European 5G Conference will take place on 30-31 January at the Hotel nhow Brussels Bloom. Now, in its 8th year, the conference has an established reputation as Brussels' leading meeting place for discussion on 5G policy.
Registration is now available – secure your place today.
The event will, once again, provide the opportunity to hear from high-level policymakers and industry stakeholders on key themes such as investment, security, sustainability, emerging business models, and connectivity. It will provide an update on progress that has been made towards the 2030 'Path to the Digital Decade' targets, as well as offering a first opportunity to examine the outcomes from WRC-23 and at what this may mean for the future connectivity environment around 5G and future technologies. By looking back at the lessons learnt to date and forward to the path towards 5G Advanced and 6G, the event will provide a comprehensive insight into all the key policy aspects that are shaping the 5G ecosystem in Europe.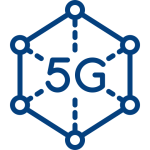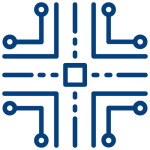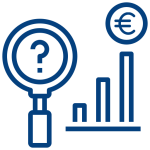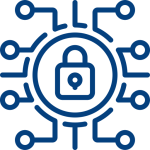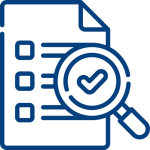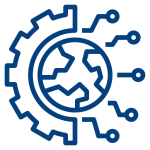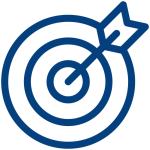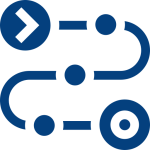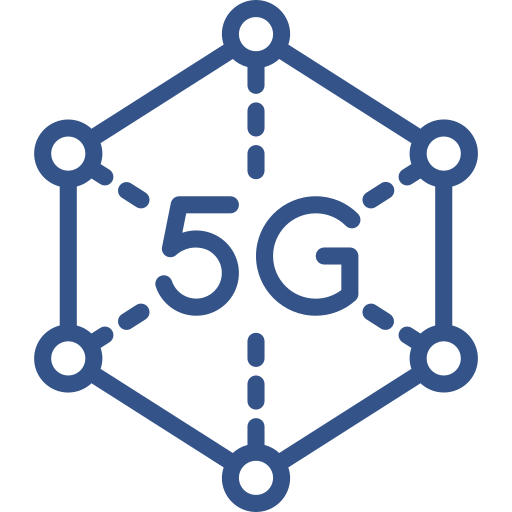 Where are we? Progress in 5G network rollout & expansion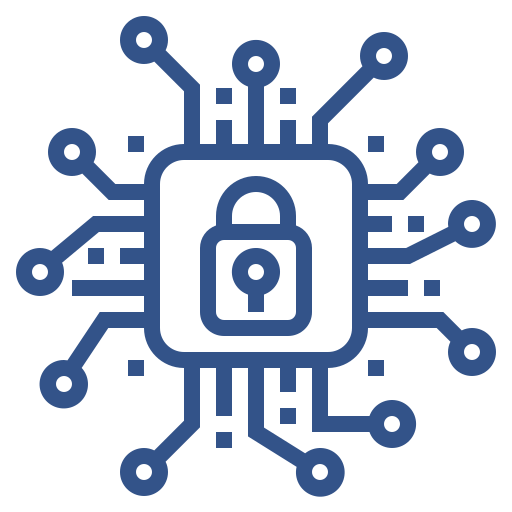 Securing Europe's 5G Networks and Architecture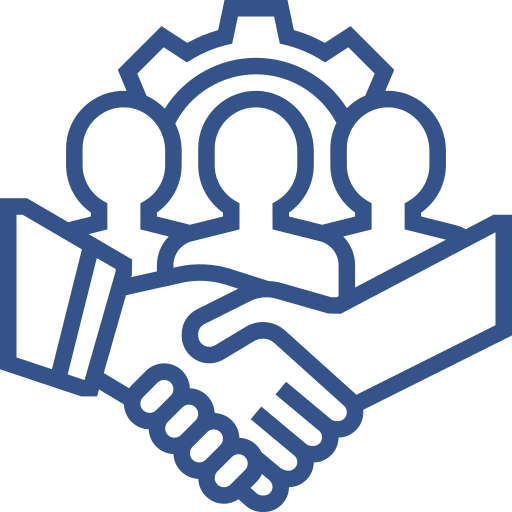 Finding a fair and sustainable approach to finance 5G ecosystem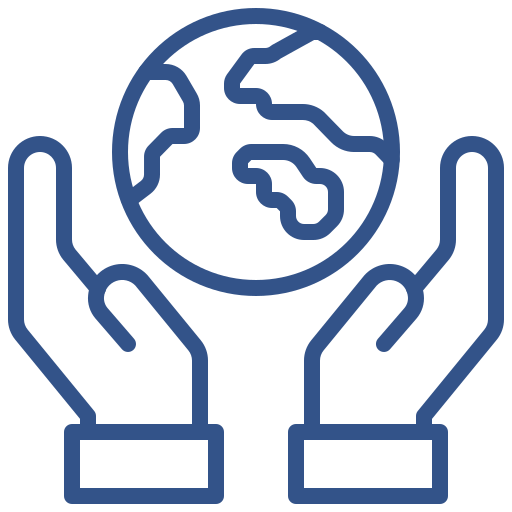 Harnessing 5G to help achieve Europe's climate targets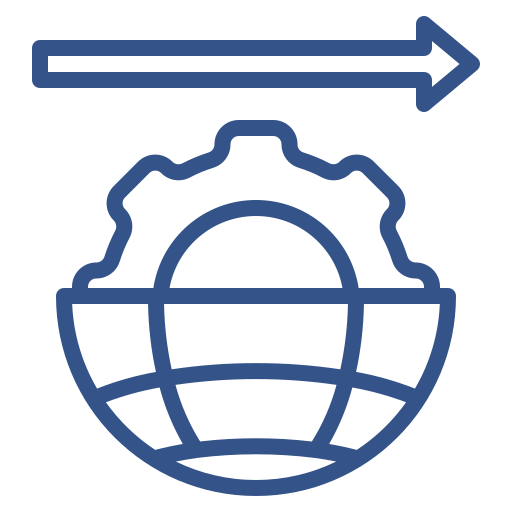 Towards 5G Advanced and the evolution towards 6G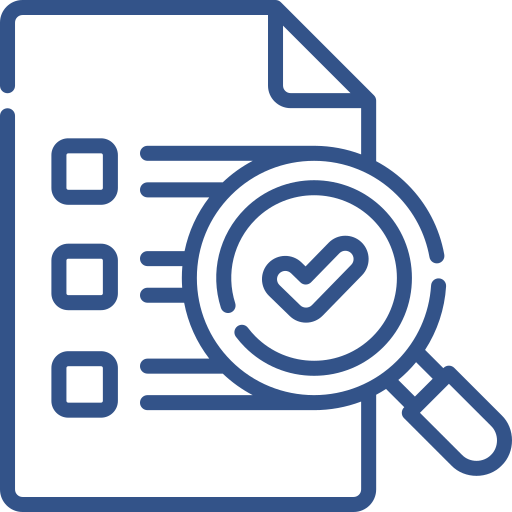 WRC-23 and 5G – what should be Europe's aspirations and how can these be achieved?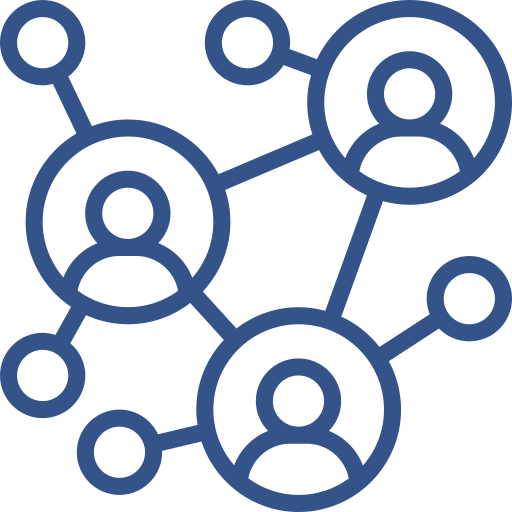 Spectrum sharing and licencing in the 5G era - mid-band, mmWave and other key frequencies
View the Event Photos from 2023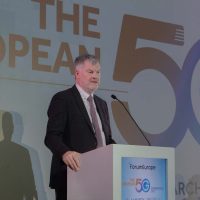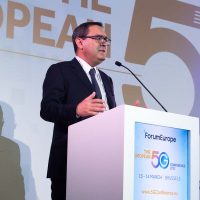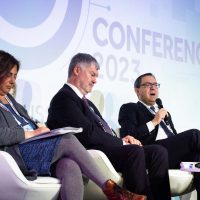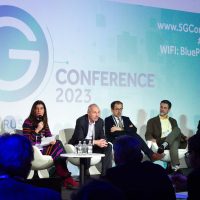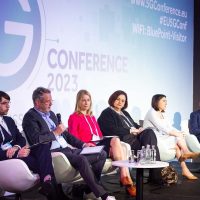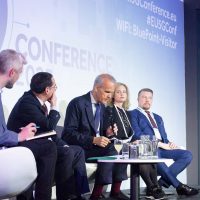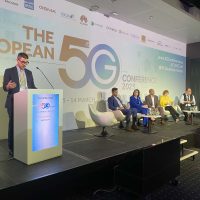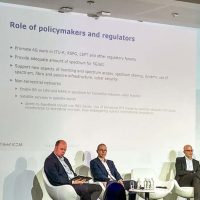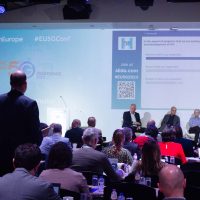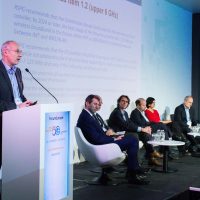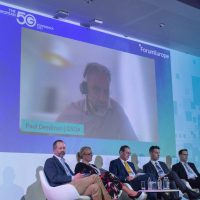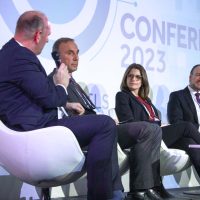 Hotel nhow Brussels Bloom
Rue Royale 250
1210 Bruxelles
Belgium
We have secured preferential rooms rates at the following hotels
Hotel nhow Brussels Bloom
Same location as the event venue
You can book this reduced rate by clicking the below button. 
DoubleTree by Hilton Brussels
5 minute walk from the event venue
You can book this reduced rate by clicking the below button.
Hotel Indigo Brussels
5 minute walk from the event venue
You can book this reduced rate by clicking the below button.
Hotel Le Plaza Brussels
10 minute drive from the event venue
You can book this reduced rate by contacting the hotel and quoting the code FEUROPE24
Where is the conference being held?

This conference will take place at the Hotel Nhow Brussels Bloom in Brussels.
Is there a fee to register for the conference?

Yes, there are registration fees associated with certain organisation types. You can find our more here.
Can I follow this event virtually?

This will take place as a fully in-person event in Brussels. We hope you can join us!
Where can I find out more about Forum Europe events?
All times listed are in local Brussels time (CET). 
Welcome and introductions
Session 1: Keynote Presentations
Session 2: Delivering a blueprint towards a unified telecoms market in Europe
Following a public consultation held in early 2023, Commissioner Breton announced in October plans to redefine the regulation of the EU's telecoms sector and continue the path towards the delivery of a telecoms single market in Europe. With the current Commission mandate ending this year, it is likely that a decision on any legislative action would be the responsibility of the new incoming Commission, but Commissioner Breton's announcement contained a recommendation for a new 'Digital Networks Act (DNA)'. This session will look at what the key objectives of this potential action should be in areas such as market fragmentation, investment, and ensuring the security of telecom infrastructures; and at what could be proposed to cut costs and red tape for 5G deployment, and change the ways in which networks are funded and secured. Against the backdrop of a rapidly evolving telecoms market, it will discuss the best approach to define and implement a blueprint to meet the objectives of delivering a single market and explore how this can help to ensure Europe's continued place at the forefront of connectivity deployment and enable the true benefits of 5G and other key future technologies to be achieved.

What were the main takeaways from the results of the telecoms consultation earlier this year and what was outlined by Commissioner Breton in order to address these?
What are the four strands that have been proposed, what are the key objectives of each and how do they aim to drive forward Europe's position as a global leader when it comes to 5G?
What are the main barriers to the delivery of a true European telecoms Single Market? What impact could overcoming these and the realisation of this key goal have on the continued development and rollout of 5G?
What are now the next steps to move from this initial announcement to the concrete steps that Commissioner Breton has said are required? What could be the potential shape of what he has proposed as a ''Digital Networks Act'?
What will be the likely timeframe ahead? With the announcement coming very late in the current Commission mandate, what could the potential impact be of the proposal 'bridging the gap' between the current and the new Commission?
How is it proposed that any new policy action builds on and fits within the context of existing regulatory actions in Europe, for example the 5G Action Plan, Gigabit Infrastructure Act and the EU Electronic Communications Code (EECC)?
What initial reactions have emerged from different industry stakeholders and at a member state level?
How can action at a European level help to strengthen the EU's digital sovereignty and reduce its dependence on foreign technology providers?
Refreshment and Networking Break
Session 3: The Path to the Digital Decade – where are we now and what should be the focus moving forward?
The European Commission's 'Path to the Digital Decade' was launched in early 2023 with the aim of fostering cooperation and coordination between member states and monitoring progress that is being seen in the rollout of 5G and towards the 2030 targets that have been set. The Report on the state of the Digital Decade 2023, released last September, gave a first opportunity to measure the progress that had been made and what had been achieved and on whether deployment was meeting the goals that had been set and the ultimate target of ensuring 100% coverage by 2030. This session will look at the key findings of the report and what it tells us about the progress that has been made and the challenges that still lie ahead. It will look at the trends that are emerging and the gaps that have been identified. Based on the current situation and considering the shift now towards rollout of 5G standalone and 5G advanced, it will look at whether current targets and KPIs are still appropriate or whether a revision is required. With the general consensus being that progress has been made, but acceleration is needed, we'll take stock of the progress made thus far and what can be done to meet stakeholders expectations and drive economic potential.

What were the findings and recommendations from the recent 'State of the Digital Decade' report? Are we on track to meet the Path to the Digital Decade targets?
What gaps were identified in the report in areas such as rural connectivity and fibre rollout? What needs to be done to address these?
Based on the progress that has been made, is there a need to redefine targets and key KPIs?
What constitutes 5G connectivity, what quality of service or experience is needed to ensure targets translate into meaningful opportunity? How can consistent reporting be harmonised across Member States?
How can the move towards 5G standalone and 5G advanced be reflected in any new targets that are being set? Is there a need to consider elements such as latency and throughput?
How have approaches to 5G deployment been different across the globe? What can be learnt and where does Europe now sit compared to other regions when it comes to scale and pace of rollout?
What challenges still lay ahead, and what key elements need to be put in place in order to tackle these?
What work is already being seen at a European and member state level to incentivise private investment, lower network rollout costs, and boost competition? Is there more that could be done?
Moving forward, what should be the main aims and objectives for the new Commission and how can the progress that has already been made now be best built upon to hit future targets that are set?
Session 4: The 5G Funding Conundrum – Towards fair and sustainable investment models
The EU has stated that a minimum of €174bn of new investment is needed by 2030 to deliver on Digital Decade connectivity targets. The issue of where this investment can be found and the best way to financially structure a long-term, sustainable 5G ecosystem continues to be one of the most hotly debated topics at present. A key part of this is the issue around 'fair share' – a proposal from telecoms companies that tech giants, which account for a significant portion of internet traffic, should share with the cost of 5G rollout and expansion; and one which Big Tech argues is an internet tax and could harm the open internet and impact Europe's digital transformation and economy. Beyond this issue however, there is a wider discussion to also be had around the investment environment around 5G, and at what can be done to encourage additional private investment and ensure the best use of the public funding that is available. This session will look to address all of these complex investment and funding issues. How can the required investment be secured, and how can we ensure that everyone is contributing in order to meet growing data traffic demand and continue to drive forward 5G and technology development across Europe?

Where does Europe sit when it comes to levels of public and private investment in 5G compared to other regions around the world?
Reaching the Digital Decade targets for gigabit connectivity and 5G may require a total investment of up to €174bn. Where does investment come from?
How successful has the funding that has been made available through the Recovery and Resilience Facility (RRF), the Connecting Europe Facility Digital programme (CEF Digital) and other investment mechanisms been in driving forward 5G rollout in Europe?
What can be done to develop an environment that makes private investment in the sector more attractive? How can innovative approaches to public funding mechanisms help with this?
What successes have been seen in cross-border 5G Corridors? Where have best practices been discovered and lessons learned?
With a number of recent investments in the sector seen from third country sovereign investment funds and private investment firms, how can it be ensured that strategies to encourage investment fit with Europe's broader approach towards digital sovereignty?
What positions have emerged in the 'fair share' discussion from across the European institutions and member states?
What would be the socioeconomic effects of a cost-sharing approach, and what effect could it have on consumers, businesses and end users?
Are there other options on the table to address the decreasing returns that are being seen for telecoms operators across Europe, which are seen as an obstacle to external investment? To what extent could market consolidation or a shift towards pan-European telecoms operators play a part in developing a more sustainable ecosystem?
What ultimately is the best and fairest way forward to find the required funding to continue to rollout and upgrade networks and secure Europe's digital future?
Refreshment and Networking Break
Session 5: Securing 5G – Ensuring safe, secure and resilient European connectivity
With 5G connectivity now playing a crucial role in Europe's digital economy and society, security is a top priority in ensuring infrastructure and critical systems are kept safe from malicious actors and resilient against natural disasters. As the threat landscape keeps evolving, Europe has taken a proactive stance in addressing the security challenges posed by 5G and the integrated network of interconnected digital elements it supports with a number of complementary initiatives such as the EU 5G Cybersecurity toolbox, the EU 5G cybersecurity certification scheme as well as provisions included in the NIS2 (which is to be fully implemented by October 2024). This session will look at how secure 5G is now, how a comprehensive application of the EU 5G Cybersecurity toolbox, which had its second progress report published in June 2023, can be captured, as well as the progress that has been made at Member State and Europe-wide levels in limiting the involvement of high-risk suppliers and increasing the protection of critical infrastructures. It will also discuss the possible implications of provisions included in the Cyber Resilience Act aimed at addressing the expanding 'attack surface' caused by the proliferation of digital products and services. Moving forward, it will look at how the proposed DNA and other key cybersecurity strategies can build on the framework that is already in place to secure the future of 5G and beyond.
How can stakeholders work together to deliver network resilience requirements for a more secure Europe?
How can AI contribute to ensuring the security of 5G connectivity and how can it be ensured that humans are kept at the centre network security processes?
What role can technologies such as Quantum Key Distribution play to develop 5G security infrastructures?
What role can satellites and NTNs support a secure 5G infrastructure and to what extent can the proposed IRIS2 constellation help to contribute in this area?
With the Commission stating there is a "clear risk of persisting dependency on high-risk suppliers in the internal market", how does Europe balance security and international cooperation?
What key findings and recommendations came out of the second progress report of the EU 5G Cybersecurity toolbox?
What will the implications of the CRA be for network operators?
How can this, alongside other key existing and proposed legislation such as the cyber resilience act and the DNA all be brought together to ensure a comprehensive and robust cyber framework that secures the future of 5G and beyond?
Session 6: 5G Network Sustainability – How can a 'Code of Conduct' supplement existing efforts in this area?
5G connectivity is at the forefront of the green and digital transformation. Whilst the environmental benefits of 5G and its accompanying applications and smart solutions are clear to see, another key area is the sustainability of 5G networks themselves. Against this backdrop, the Commission has begun the process towards a Code of Conduct for the sustainability of electronic communications networks – a joint report with JRC has been prepared to explore aspects such as possible indicators and potential impact on taxonomy, with the aim of providing recommendations towards the preparation of a Code itself to be released by the end of 2025. This session will look at the work that is already being done on maximising the sustainability of 5G networks and the impact that a future Code of Conduct in this area could have in further driving this forward. It will look at the potential indicators that could be used to measure sustainability as part of the code, and how that could fit both with existing environmental frameworks in Europe and with EU Taxonomy.

What are the environmental impacts of 5G currently and what are the sustainability indicators that are used to measure this?
What were the key findings and recommendations of the recent study into the sustainability of electronic communications networks carried out by the European Commission / JRC and by BEREC?
What progress has been made towards a Code of Conduct for the sustainability of electronic communications networks and what are now the next steps? How might it complement existing 5G sustainability efforts, and what are the anticipated benefits and challenges of its implementation?
What indicators could be used to measure the sustainability of networks as part of the code, and how can it be ensured that these are easily verifiable and applied, leaving ideally no room for diverging interpretations?
How will the new Code of Conduct fit in the context of existing Codes of Conduct focussing on Data Centres and Broadband Equipment, and also broader legislative programmes, such as the EU Green Deal?
To what extent could a company's adherence with any future Code of Conduct potentially become an indicator as part of the process to classify them as environmentally sustainable under the EU taxonomy? What impact could this have?
Setting the Scene – Key Upcoming RSPG Priorities and Work Plans
Setting the Scene – 5G Progress and Upcoming Plans in the US
Session 7: Debriefing WRC-23 – What were the key takeaways and decisions and what might this mean for future 5G development and rollout in Europe?
WRC-23 in Dubai at the end of last year saw the culmination of 4 years of discussions around the best way to meet future connectivity requirements for 5G and other future technologies. Decisions were taken on a number of key mid-band frequencies that are crucial for setting the future direction of 5G evolution and beyond. This session will provide a first opportunity to digest and debrief on the outcomes of WRC-23, at the decisions that were taken and at what are now the next steps. Panellists will dive into questions and answers that have come out of Dubai and what this may mean for the immediate and long term objectives for 5G and more broadly for stakeholders across Europe – member states, connectivity providers and citizens.
What were the key agenda items for 5G at WRC-23, and what decisions were taken on these, both in Region 1 and elsewhere?
In which areas are there now clarity in the decisions that have been reached, and where are there still potential questions remaining?
To what extent do key industry groups now have access to sufficient spectrum to meet their future 5G and 6G connectivity requirements and to secure the continued growth and evolution of their sector?
What decisions have been made on the 6GHz band, and what impact will this have on 5G and 5G Advanced?
What are now the next steps to implement the decisions that have been taken and to make spectrum available as quickly and efficiently as possible? What is the likely timeline ahead?
To what extent can WRC-23 overall be said to have been a success for CEPT and Europe? Are there any lessons that can be taken into future conferences?
What agenda items are on the table for WRC-27 that may affect the continued evolution of 5G advanced and beyond, and what are likely to be the most hotly debated topics over the next 4 years?
Refreshment and Networking Break
Session 8: 5G and the broader digital evolution – what key technologies, solutions and approaches are set to shape the next wave of connectivity and innovation?
Connectivity has always been at the forefront of technological development more broadly. This is no different in today's 5G world. As 5G advances and the broader ecosystem is evolving, it is converging with other emerging technologies, and becoming the backbone for a broader digital revolution. This session will look at this interaction and convergence in more detail and, with an increasing number of different connectivity providers, technologies, business models and approaches becoming part of an evolving environment, will look at how all these are coming together to shape the future connectivity ecosystem. It will explore the potential of AI, at the way that this and related technologies are already enhancing 5G capabilities and at the opportunities and challenges that may lay ahead as technologies advance further. And finally, it will look at how 5G is driving the evolution of other key sectors such as Non-Terrestrial Networks and WiFi, and at how their integration into 5G can enable more seamless connectivity and the availability of high speed services in hard to reach areas. As 5G Advanced starts to emerge and technologies continue to evolve more broadly, how can connectivity providers and regulators work together to ensure that its benefits truly are maximised to deliver the connected society of tomorrow?
How is 5G driving forward the broader digital revolution, and what key technologies, solutions and approaches are set to play a part in shaping the next wave of connectivity and innovation?
How are AI and other related technologies already enhancing 5G capabilities by enabling elements such as network slicing, edge computing optimization and content-aware services?
What new features and enhancements could a combination of 5G Advanced and AI offer in the future?
What framework for the regulation of AI is emerging, and how will measures such as the AI Act and the Digital Act help to allow opportunities to be maximised and risks to be anticipated and mitigated?
How is 5G driving the evolution of NTNs, WiFi and other key connectivity technologies?
What new partnerships and business models are emerging between these different connectivity providers? To what extent is further convergence of terrestrial and non-terrestrial networks likely as the 5G ecosystem matures, and what potential could this have in helping to increase the overall user experience?
How is the early OpenRAN ecosystem starting to develop and what impact is this having on 5G and the broader technology ecosystem?
What potential can OpenRAN and Neutral Host technologies offer going forward? To what extent are we likely to see this achieved within a 5G environment, or is it more likely to be more a part of 6G networks?
As 5G Advanced starts to emerge and technologies continue to evolve more broadly, how can connectivity providers and regulators work together to ensure that its benefits truly are maximised to deliver the connected society of tomorrow?
Session 9: Building national and European spectrum roadmaps beyond 5G
Whilst progress continues in the rollout of 5G and the move towards 5G Advanced, attention is also very much now turning to what comes next. Research and Innovation (R&I) initiatives related to 6G technologies are emerging around the world, the ITU have launched their own 'vision for IMT2030' and, in Dubai at the end of last year, the ITU CPM27-1 gave the first concrete pointers at a global and regional level on the key spectrum bands to be studied ahead of possible allocation as the pioneer bands for 6G and the next generation of connectivity. At a European level, a recent RSPG opinion was published on spectrum for 6G, and very much pointed to the need for "…long term strategic spectrum planning" when it comes to the development of connectivity roadmaps for 6G. This session will look at early work that is being done at a European level and across Member States to develop connectivity and spectrum roadmaps and to outline a concrete strategy for 6G connectivity. What needs to be the goals and timeframes ahead to provide the required regulatory certainty, foster an environment for investment, deliver flexibility and innovation and ultimately set Europe on the path towards global leadership as we move beyond 5G.
How much spectrum is it expected will be needed to meet the needs of 6G and other future connectivity technologies in terms of both capacity and coverage?
What mix of spectrum across low, mid and high band frequencies may be required and what options are available to provide the bandwidth for this in each of these ranges?
What initial work is being done at a European level and across member states to identify bands for 6G and to develop a strategic spectrum roadmap to ensure global leadership in this area?
What early approaches are being seen elsewhere around the world, and to what extent is it important that there is coordination and alignment across and between regions?
How may regulators have to adapt traditional methods of assigning and licensing spectrum as we move beyond 5G, and what innovative new ways of utilising spectrum could be seen?
What were the outcomes of CPM27-1 in terms of identifying bands to be studied for the initial rollout of 6G, and how influential are these going to be in shaping early spectrum roadmaps and plans beyond 5G?
What lessons can be learnt from the processes related to the identification of the initial pioneer bands that were used for rollout of 5G?
What other lessons can be taken from the way in which spectrum was allocated for 5G and how this affected the way in which services were rolled out?
What were the key findings and recommendations from the RSPG opinion, and what now need to be the next steps in order to ensure Europe has the building blocks in place to play a key role at a global level as we move towards the emergence of next generation connectivity solutions?
Session 10: Rural 5G connectivity – ensuring that nobody is left behind
At a European and member state level, 5G is seen as an important part of the technology mix (alongside NTNs, fibre and more) to deliver rural connectivity and tackle the digital divide. At the same time however, deployment of high speed 5G infrastructure has naturally occurred quicker in urban areas than in rural areas, where it is often more complicated to put in place the required infrastructure and expected returns on investment are far lower. This has led to concerns that 5G may actually have the opposite effect and serve to widen rather than narrow the gap between the digital haves and the digital have-nots. With the 5G ecosystem now becoming more mature, this session will look at where we currently are with regards to 5G rollout in rural areas, and what plans there are to continue deployment to give citizens and businesses access to the same high-speed connectivity that is seen in cities. It will look at different technologies, funding models and approaches that are being seen, and ask how it can be ensured that 5G truly is a technology for everyone and that nobody is left behind.
What impact has 5G had on the digital divide across Europe to date?
What benefits has 5G started to bring to consumers and businesses in those rural areas in which it has been rolled out?
What are the specific challenges of delivering 5G services to the most challenging unserved areas in the region? What innovative new initiatives, funding models and technology mixes are being seen to bring 5G to rural and other harder to reach areas?
How are regulators working with industry to use innovative regulation to match innovative technologies and services? Which Member States are leading the way in this area, and are there lessons that can be learned from their approaches?
Can infrastructure sharing be part of the solution to bring down the cost of 5G network rollout in rural areas?
What impact can advances in technologies such as NTNs and FWA have both now and in the future?
What potential is there in either the short or longer term future for 'coverage' bands in the sub-GHz spectrum play a part helping to deliver 5G services to rural areas, particularly as we move towards 5G Standalone? What speeds and performance could be possible with this low-band 5G and what should be the minimum requirements for rural-5G in terms of speed and performance?
Select date to see events.
This is a paid event, please see registration fees for each organisation type in the table below.
If you have queries regarding which organisation type you fall under, please contact us.
*Please note that the early bird rate is only available until 19th December, 2023.
Applies to: Corporate Organisation
Applies to: Not for Profit / NGO, National Regulator or Government Representative of Non-EU Member State
Applies to: Students / Academia
Applies to: EU Commission / Parliament / Council, EU Permanent Representatives, National Regulator or Government Representative of EU Member State, Press / Media
Launched in 2016, and now in its eighth year, the European 5G Conference has previously taken place in Brussels, as well as virtual editions in 2021 & 2022. We were pleased to return to a fully in-person format in 2023, and we hope that you will be able to join us, once again, in Brussels in 2024.
Taking place in person in March 2023, the seventh edition of the event welcomed over 250 key stakeholders and policy makers to discuss key topical issues related to the rollout of 5G.
You can view more details of the 2023 edition of this event here.
Get Involved - Sponsorship Opportunities
To discuss speaking, sponsorship and visibility opportunities at The European 5G Conference 2024, please contact Dan Craft on dan.craft@forum-europe.com or on +44 (0) 2920 783 020.
Exclusive speaking positions | Your organisation can contribute to the discussion
Engaging and Interactive format | Engage in a fully immersive and interactive debate with decision makers, businesses and policymakers
European and Global outreach | Convey your message to a broad and international audience
Networking opportunities | Connect with fellow attendees during coffee and lunch breaks throughout the event
Visibility Opportunities | Ensure maximum visibility through branding on the event website and marketing activities
Exhibition and demos area | Showcase your products and solutions onsite or share a position paper with the audience
For more information on any aspect of this event, please contact Jordan Francombe using the details below.
Tel: +44 (0) 2920 783 020
Receive our event updates
Sign up to receive updates on our upcoming policy events. We will only send you emails about the conferences and topics that interest you, and you can unsubscribe at any time.